GCC Connected | October 2021
It's time to FALL upon Jesus, Because He Never LEAVES 是時候倒在耶穌身上了, 因為他從不離開我們
Hi Church Family!
As you gear up for the busy holiday season, we hope that all of you continue to be safe and healthy. We know these next few months can be stressful and exhausting, but we encourage you that "whatever work you do, do it with all your heart. Do it for the Lord and not for men" (Colossians 3:23). Here are a few updates from the church to keep you in the loop:
We encourage you to join our in-person worship especially if you are fully vaccinated. We still take safety precautions and require masks to be worn inside at all times. There is nothing more joyous than to have worship with other fellow believers!
Many of our Fellowships and Life Groups have started meeting virtually. If you would like to join any of our virtual meetings, please use this request a list of our current virtual fellowships. Currently, we plan to resume our in-person fellowships starting in January 2022, pending the pandemic situation. We will share more details as we get closer to those dates.
While we may not be doing our Annual Fall Harvest festival, you can still spread God's love with trick-or-treaters and family members! Consider putting Bible verses or tracts to candies that you hand out. You can also find some simple activities that teach some Biblical truths to your kids like carving a jack-o-lantern and teaching them about God's light of hope that shines brightly in this dark world.
Our church will be hosting an early Thanksgiving Luncheon on Thanksgiving day. We hope you and your family and friends can join us as we give thanks to God for the many blessings He has given us this past year. More details will be posted on this page as details are released. Check back soon to RSVP!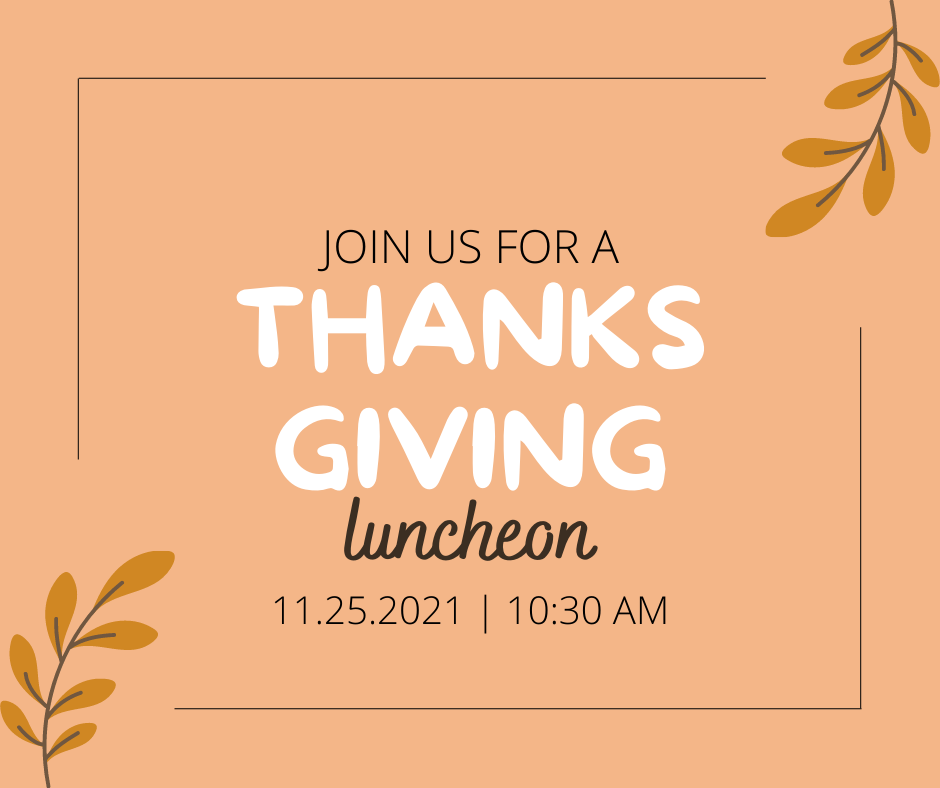 Do you like working with your hands? Do you need to use some pent up energy from being cooped up at home all day? If so, our church can use your help! We have a list of some projects that we are hoping to complete to prepare our facilities for our 50th Anniversary! Please talk to Pastor Nick or Brother Gilbert if you would like to help with some of these projects.
We cannot wait to celebrate and fellowship with you all in person! If there's anything you need prayer for, please let one of the pastors or deacons know so we can lift you up during our prayer time. To God be all the honor and glory!
親愛的弟兄姊妹,
你在繁忙的假期作準備前,我們希望你們所有人都繼續能夠安全和健康。 我們知道接下來的幾個月可能會讓人感到壓力和筋疲力盡,但我們鼓勵你"無論做甚麼,都要從心裡做, 像是給主做的,不是給人做的"(歌羅西書 3:23)。 以下是教會的一些更新,讓你隨時瞭解我們的近況:
我們鼓勵你親自與我們參加敬拜,特別是如果你已完全接種疫苗。我們仍會採取安全預防措施,並要求在室內佩戴口罩。沒有什麼事比與教友一起敬拜更為快樂的!
我們大部份團契和生命小組已經開始進行線上見面。如果你想參加我們的任何線上見面,請使用此鏈結下載我們最新的線上團契列表。目前,我們計劃從 2022 年 1 月開始恢復親自崇拜,以等待大流行的情況。隨著這些日期的臨近,我們將分享更多細節。
雖然我們有可能不舉辦一年一度的秋季豐收節,但你仍然可以與不給糖就搗蛋的人和家人一起傳播上帝的愛!考慮把聖經經文或小冊子放在你分發的糖果上。你還可以找到一些簡單的活動,向你的孩子傳授一些聖經真理,例如雕刻南瓜燈,並教導他們上帝的希望之光在這個黑暗的世界中閃耀。
我們的教會將在感恩節那天提前舉辦感恩節午餐會。我們歡迎你、你的家人和朋友能加入我們聚會,感謝上帝在過去一年中賜給我們的許多祝福。隨著詳細資訊的發佈,更多詳細資訊將發佈在此網頁上。會儘快回訪RSVP!
你喜歡手工藝嗎?你是否被關在家裡一整天被壓抑了能量嗎?如果是這樣,我們的教會可以借助你的幫忙!我們列出了一些我們希望完成的項目清單,為我們的 50 週年紀念日準備我們的設施!如果你想幫助其中一些項目,歡迎你們聯絡譚世傑牧師或Gilbert弟兄。
我們迫不及待地想親自與大家慶祝和團契! 如果你有任何需要禱告的事情,請告訴其中一位牧師或執事,以便我們在禱告期間幫助你。 一切尊榮和榮耀都歸於上帝!